Print this Page
Navigation
YS-7725
GPS Vehicle Camera
Overview
YS-7725 GPS vehicle camera suits for a wide variety of embedded image acquisition system, such as remote monitoring, and stay like a doorbell, video telephony, digital image recording, industrial control, security and other areas. Especially suitable for image transmission, such as the phone line, GPRS / CDMA / data transmission such as radio-based low-speed channel remote image monitoring system. The product has high image quality, excellent night vision. YS-7725 GPS vehicle camera uses the Omni Vision CMOS OV7725 sensor and JPEG compression chip, high-quality brands of infrared light, to make up for the defects is not clear in the early product quality.
Lens Description
2.5mm, 2.8mm, 3.6mm, 6mm, 12mm IR lens or color lens are selectable for customers
Application
General purpose embedded imaging and control
Security system
Access Control system
Robot vision, object detection and recognition
Industrial control system
Automotive system
Medical systems ect.
Features and Benefits
- A comprehensive design for the automotive environment
- Operating voltage of a wide range of optional DC 5V, 12V,9-36V
- Support for RS232, RS485, TTL level three kinds of way communication
- UART: 1,200-115,200bps transferring JPEG still pictures
- Built-in down sampling, clamping and windowing circuits for 640*480, 320*240, 160*120 image resolutions
- Compression ratio can be changed flexibly by user
- Can be customized protocols and functions according to the specific requirements of the user
- Auto-Infrared, Auto-White Balance, Auto-Gain Control
Dimensions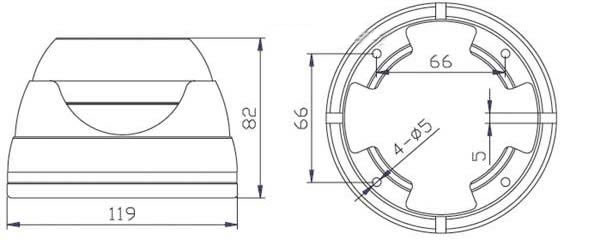 Form Factor Type: Conch Type
Dimensions: 120 x120 x 82 mm
Weight: 200 g
Resolution Compression Algorithms: JPEG
Resolution: 640x480, 320x240, 160x120
Serial Interface RS232,RS485,TTL
Serial Communication Parameters Parity: None, Even, Odd, Space, Mark
Data bits: 7, 8
Stop bits: 1, 2
Flow Control: RTS / CTS
Baud rate: 1,200 bps ~ 115,200 Kbps (supports non-standard baud rate)
Environmental Limits Operating temperature: -40 ~ 85 °C
Storage Temperature: -65 ~ 150 °C
Ambient Relative Humidity: 5 to 95% (non-condensing)
Power Requirements Power Input: 5 VDC, ± 5%
Power Consumption: 70 mA@5 VDC max.
Reliability Automatic Reboot Trigger: Built-in WDT (watchdog timer)
Warranty Warranty Period: 1 years