Print this Page
Navigation
EM-32S
10/100 Mbps Embedded Device Networking Module
Overview
EM-32S Series TCP / IP components are the industry's smallest embedded TCP / IP protocol serial device servers, serial devices to your network immediately. EM-32S volume compact, 28 x 28 mm size is only equivalent to a QFP208 foot chip core size, the use of single-hole chip stamp pad, single 3.3V power supply, a very small PCB footprint, you can easily the EM-32S as a component integrated with your serial device, so that your serial devices to the 10/100M speed networking.
Built-in TCP / IP communication protocol
EM-32S built-in TCP / IP communication protocol for R & D engineers can easily be networked serial devices, no longer need to spend a lot of time and effort writing TCP / IP communication protocol. In this way, engineers can use most of the time in the development of other more important features, so that the company launched the product cycles. 10/100M auto-detect the interface so that you can enjoy the advantages of high-speed transmission, Auto MDI/MDIX feature allows the network cable straight through, crossover cable may work. In addition, EM-32S has two physical UART serial port, so you have more space, more flexibility to develop products according to customer demand function. EM-32S standard 3.3V power supply, I / O port 5 V-tolerant design is better suited for today's equipment, R & D engineers can spend less time and energy in the circuit design.
User-friendly design options
through easy-to-use windows program ezConfig or Web browser to complete the setup, plug and play.
Shorten product launch schedule
EM-32S with a standard pin spacing (2.54mm) and 32 pin (just a double with one serial port 16 pin) hole or optional stamp design makes its as a TCP component, allowing you to reduce the design cycle, so that products can quickly introduce. In addition, we provide a virtual serial port program, which automatically configure the serial port parameters, the user can not modify the application immediately to achieve network control.
Application
Access / Security control systems (card readers, biometric identification devices)
Medical / Healthcare (ECG, ultrasonic detector, blood testing devices)
Industrial automation (PLC, test equipment)
Telecommunications room (RTU) control, tank liquid level (CTU) detection
POS network consumption, LED screen control
Building automation control systems (HVAC, fire alarms)
Information appliances (UPS monitoring module)
Features and Benefits
- Serial (TTL) 10/100M auto-detect Ethernet switch embedded device networking module
- Small size (28 x 28 mm), equivalent to only QFP208 foot chip core size
- Single component, stamp pad hole to support SMT production
- 2 with a flow control UART
- I / O port 5 V-tolerant to simplify the design
- Support network cable Auto MDI/MDIX, straight through, crossover cable can work
- Built-in WDT, to ensure long-term stable and reliable work
- Search by ezConfig or Web browser plug-line parameter configuration
- TCP Server, TCP Client, TCP Mixed, UDP, Real COM operation modes
- Real serial port mode (automatically set the serial port parameters)
- Support for DNS, DHCP, multicast, and broadcast applications
- Supports two TCP connections
- Full transparent data transfer, disconnection detection
- Supported gateway, across the wide area network routing information
EM-32S external reference circuit download
Pinout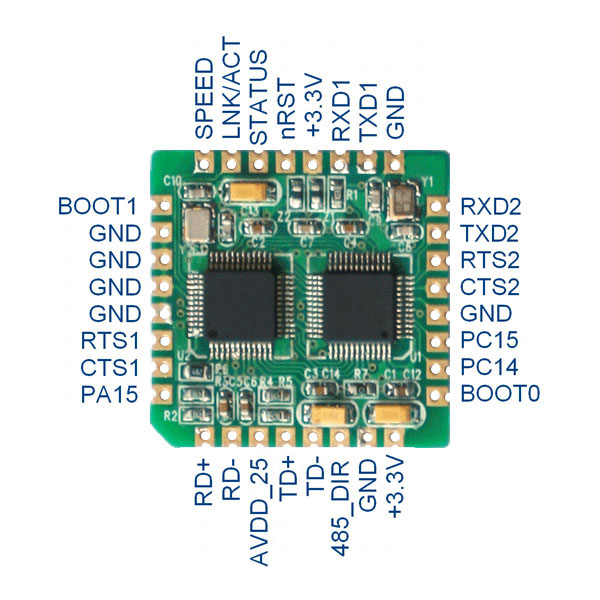 Dimensions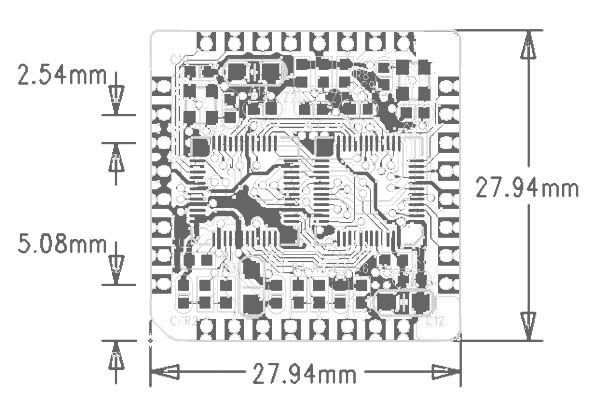 Form Factor Type: pin hole type or stamp
Dimensions: 28 x 28 x 3 mm (equivalent to QFP208 foot chip core size)
Weight: 5 g
System Information CPU: 32-bit ARM Core
Ethernet Interface Rate: 10/100 Mbps, Auto MDI / MDIX
LEDs: Speed ​​10/100 M, connection run (LNK / ACT)
Serial Interface Port 1: TTL signal ( 5 V-tolerant)
Port 2: TTL signal (3.3V)
Serial Signals TTL (Port 1): TxD1, RxD1, RTS1, CTS1, GND
TTL (Port 2): TxD2, RxD2, RTS2, CTS2, GND
Serial Communication Parameters Parity: None, Even, Odd, Space, Mark
Data bits: 7, 8
Stop bits: 1, 2
Flow Control: RTS / CTS
Baud rate: 300 bps ~ 4,500 Kbps (4.5 Mbps) (supports non-standard baud rate)
Software Network Protocol: ICMP, ARP, IP, TCP, UDP, DHCP, HTTP, DNS, SNMP V1/V2c
Configuration Options: Web browsers or search tools ezConfig
Mode: TCP Server, TCP Client, TCP Mixed, UDP, Real COM mode
Environmental Limits Operating temperature: -40 ~ 85 °C
Storage Temperature: -65 ~ 150 °C
Ambient Relative Humidity: 5 to 95% (non-condensing)
Power Requirements Power Input: 3.3 VDC, ± 5%
Power Consumption: 140 mA@3.3 VDC max.
Reliability Automatic Reboot Trigger: Built-in WDT (watchdog timer)
Warranty Warranty Period: 5 years