Print this Page
Navigation
MC-7725
300,000 Pixel Serial JPEG Camera Module
Overview
The Serial Camera, built in snapshot, JPEG compression and serial interface communication module, can be attached to computer and any other embedded devices performing as a video camera or a JPEG compressed still camera for imaging applications. It uses an Omni Vision CMOS OV7725 sensor(OV7725 is also used in the camera of iPhone, it is much better than others) along with a JPEG compression chip that provides a low cost and low powered camera system. Its on-board Serial interface is suitable for a direct connection to any host micro-controller UART. The JPEG picture can be captured via serial commands, which makes monitoring so easy.
Lens Description
2.5mm, 2.8mm, 3.6mm, 6mm, 12mm IR lens or color lens are selectable for customers
Application
General purpose embedded imaging and control
Security system
Access Control system
Robot vision, object detection and recognition
Industrial control system
Automotive system
Medical systems ect.
Features and Benefits
- Work by day and night
- Low cost and low powered camera for embedded imaging applications
- On board EEPROM provides a command-based interface to external host via TTL or RS232 or RS485 serial link
- UART: 2400-115200bps transferring JPEG still pictures
- Built-in down sampling, clamping and windowing circuits for 640*480, 320*240, 160*120 image resolutions
- Compression ratio can be changed flexibly by user
- No external DRAM required
- Auto-Infrared, Auto-White Balance, Auto-Gain Control
Dimensions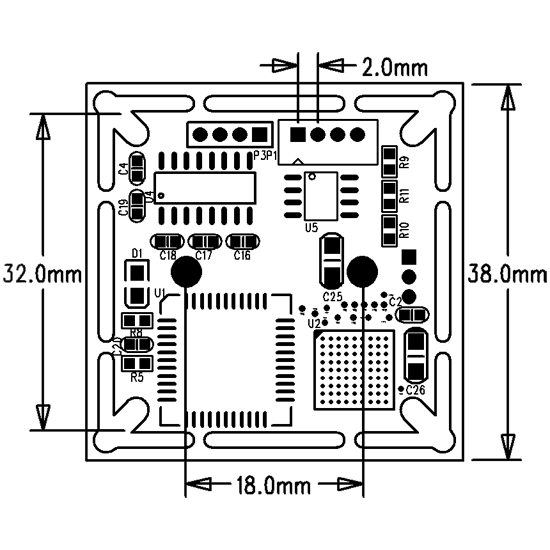 Pinout
Pin
1
2
3
4
Symbol
VCC(Red Wire)
RXD/485-A(Yellow Wire)
TXD/485-B (Green Wire)
GND (Black Wire)
Description
Power supply
DC+5V
TTL/ RS232 Serial Input
485-Date+
Selectable
TTL/ RS232 Serial Output
485-Date+
Selectable
Power supply ground
Form Factor Dimensions: 38 x 38 mm
Weight: 100 g
Resolution Compression Algorithms: JPEG
Resolution: 640x480, 320x240, 160x120
Serial Interface RS232,RS485,TTL
Serial Communication Parameters Parity: None, Even, Odd, Space, Mark
Data bits: 7, 8
Stop bits: 1, 2
Flow Control: RTS / CTS
Baud rate: 1,200 bps ~ 115,200 Kbps (supports non-standard baud rate)
Environmental Limits Operating temperature: -40 ~ 85 °C
Storage Temperature: -65 ~ 150 °C
Ambient Relative Humidity: 5 to 95% (non-condensing)
Power Requirements Power Input: 5 VDC, ± 5%
Power Consumption: 70 mA@5 VDC max.
Reliability Automatic Reboot Trigger: Built-in WDT (watchdog timer)
Warranty Warranty Period: 1 years